Top Vacation Getaways
WEEKLY STUDIO SPOTLIGHT: TRAVEL
Top vacation getaways that will inspire your design eye and your wardrobe.
CONCEPT: Vacation. A chance to re-set and re-charge. A momentary blip on the radar of life to pause the day-to-day hustle, and quiet your mind-- of which is probably used to working 100x in overdrive.
WHERE: Travel is one of the single most important things we can do in life. New perspective, new cultures, new food, and new design wait for us around every corner.
WHY: For me, travel reinstates the beauty of design, and always leaves me supercharged with new ideas and a fresh perspective looking through my old lenses.
WHAT: This post will be about what inspires me when I travel, the most beautiful destinations taunting me with their beauty as of late, and how I can tangibly turn them into actionable design ideas that I use everyday to design homes and direct fashion photoshoots!
WHO: Who am I? I'm Shana... the founder of Sloane & Row and Sloane & Studio Interiors. Click here to read a bit more about me, or feel free to peruse my Instagram. This post will be kicking off a new weekly series of our Studio Spotlights -- Top lists focusing on culture, travel, art, architecture, fashion, and interior design.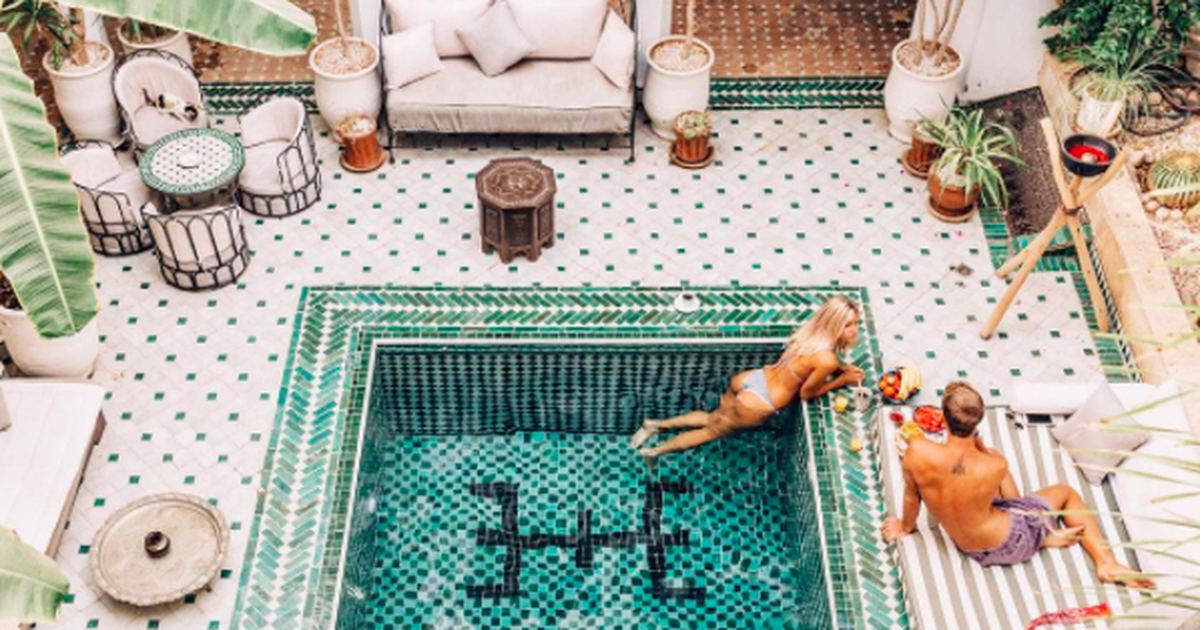 BEFORE THE TRIP:
Half of the fun of traveling itself, is the homework and daydreaming I get to do the 3-12 months leading up to my getaway...
Sidebar: Don't get me wrong, travel doesn't have the break the bank. Travel can be a 3 hour drive to a new town you've never visited, or a 30 min drive to a great neighborhood you've been dying to explore. Travel is important, yes. New cultures and new color for your imagination to outstretch the globe, but the more I've traveled, the more I've realized that travel is a mind set. A switch you can turn off and on in your mind, and a lens you can choose to see the world in.
The term I've coined for this state of mind: Airplane Mode.
I usually try to go somewhere new every weekend, and every other month or so I'll drive with my pup and fiancé a few hours outside of our little Spanish Silverlake bungalow to June Lake or Palm Springs for an overnight camping trip, or cruise up to Wine country to be reminded of the beauty of California, and how closely it resembles the rolling hills of Tuscany, Florence and the lush greenery of Cork, Ireland. My consistent goal though: To take 1-2 big trips a year, albeit India or Bali, Alaska or South America, Morocco or Egypt.
HOW TO:
When planning, I typically head to Pinterest and YouTube, and look to the gurus of Lonely Planet, Condé Nast Traveler, and oldies but goodies like Rick Steves.
INSPIRED BY:
I also get inspired for design, photography and location scouting by these instagram feeds / travel bloggers: @julieengel @doyoutravel @garypeppergirl @thebucketlistfamily @aguynamedpatrick @localmilk @designmilktravels @welivetoexplore @laurenswells @dametraveler @rosielondoner @prettylittletrips @wearetravelgirls @cntraveler
THE SECRET TIP:
I think it goes without saying that ambiance and design is very important to me, and I often select Airbnb's that are well-decorated, and hotels with great branding, good photography and well-designed (and mobile friendly) websites. This might sound silly, but a lot of the great new hotels and restaurants I've been to are well branded and decorated inside and out AND typically give amazing service. (I'm looking at you, Sanara, Tulum). The Secret Tip: Be sure to look for aesthetically pleasing websites and you'll be sure to have a stellar stay.
THE POST:
Below are my top hotel faves of the moment, and how they inspire me for interiors and fashion. After all, I am half interior designer, half fashion creative director. And remember, all roads lead to color, balance, design and aesthetic... So in these posts, I will often tie in fashion, interiors, and travel since they work so closely together in my book.
///////////////////////////////////////////////////////////
1. SUJAN LUXURY, India
A premiere 5 location luxury hotel/experience group that has some of the chicest decor and most phenomenal views I have ever seen. Every time I visit their website and browse through the galleries of each location I find myself re-inspired. Check out their killer branding, great photography and stunning videos for each location. LOVE!
On a blogger's paradise and a honeymooner's dream, sits Como Shambhala Estate in Bali. Surrounded by lush greenery, this luxury jungle retreat is on my hit-list, for sure. A residential health retreat combining holistic wellness that flawlessly merges with state-of-the-art facilities and exceptional villa accommodations. The location is a unique and spiritual enclave of jungle, river, and sun-rich clearings just north of Ubud. Brainstorming for my own honeymoon now... I'm sooo ready.
///////////////////////////////////////////////////////////
3. INN AT PERRY CABIN, Maryland
This dreamy east coast hotel has been on my swoon-worthy list ever since it made a cameo in a little movie called Wedding Crashers. The quintessential white estate, laden with black shutters and rich American 18th century architecture leaves me with a sense of nostalgia and a spark of enthusiasm. Steeped in history and style, this colonial mansion is the perfect retreat. The Inn at Perry Cabin sits within beautiful gardens that reach down to the gentle waters of Maryland's Eastern Shore AND it's only short drive from Washington, D.C. and less than two hours from Baltimore and Philadelphia. Yes, please!
///////////////////////////////////////////////////////////
4. ANDRONIS SUITES, Greece
Ah, Greece – A place synonymous with effortless style, phenomenal wines, all white errraything, and some of the best sunsets in the world. Lucky for me, this place is already on my go-to list this year with a September trip already booked, but with 6,000 isles (only 227 inhabited) it makes it hard to have a bad time. Andronis Suites, nestled in Santorini's north-western coastline, promises a relaxing retreat in an idyllic setting. The traditional white-washed, Aegean architecture of the 22 suites creates an oh-so peaceful atmosphere by the beach in the historic town of Oia. Until, September, Greece... αντιο σας !